as SOLOIST with BLUEWATER CHAMBER ORCHESTRA in Beethoven's "Ah, Perfido"
Ah, Perfido!
Soprano Laura Pedersen was featured in Beethoven's early concert work  "Ah, Perfido". With a dramatic text taken from an opera about Achilles, the aria's female protagonist both rages and laments through a multi-stage journey. Pedersen's imposing vocalism and sense of character fitted the music beautifully. The lengthy recitative was impassioned, while the songful cantabile had wisps of sorrow, and the powerful cabaletta brought this complex scene to an imposing close. Meyer and his players effectively conjured the storms and trickling rivulets over which Pedersen painted her sonic picture.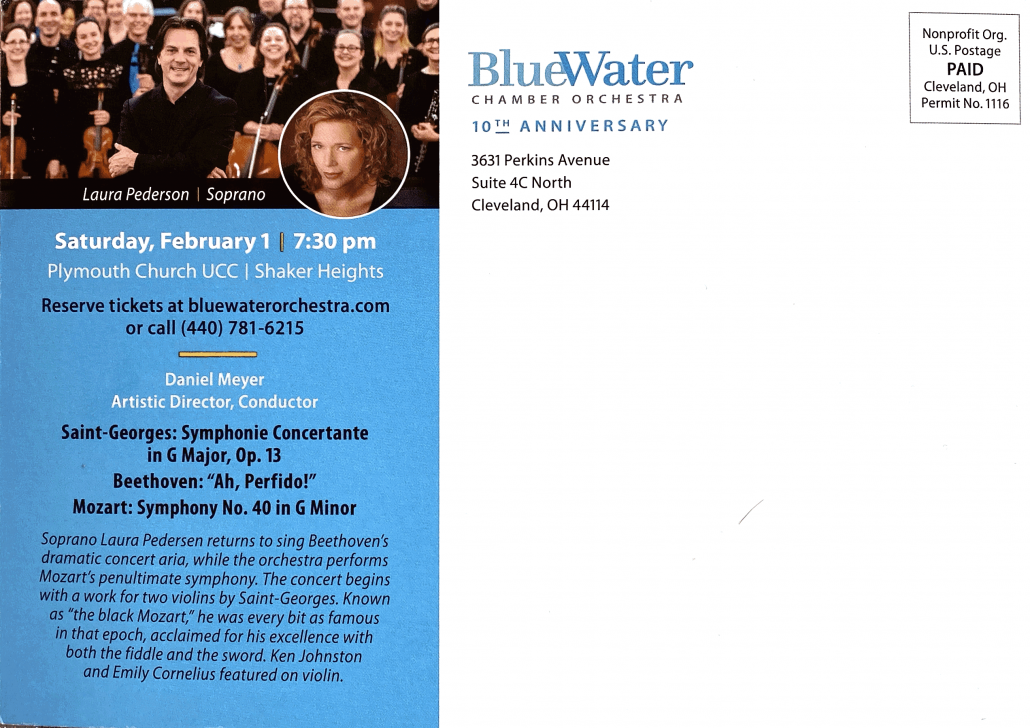 Blue Water Chamber Orchestra
Saturday, February 1, 7:30 pm
Plymouth Church UCC, Shaker Heights
Daniel Meyer – Artistic Director, Conductor
Saint-Georges: Symphonie Concertante in G Major, Op. 13
Beethoven: "Ah, Perfido!"
Mozart: Symphony No. 40 in G Minor
Ms. Pedersen will be singing Beethoven's "Ah, Perfido!" with the BlueWater Chamber Orchestra in their 10th anniversary season.
This top-notch Orchestra has amazing programming and no intermission.
Looking forward to seeing you there!
Reserve tickets at bluewaterorchestra.com or call (440) 781-6215.
https://laurapedersen.com/wp-content/uploads/2019/11/LP-logo.png
0
0
bnewburger
https://laurapedersen.com/wp-content/uploads/2019/11/LP-logo.png
bnewburger
2020-05-09 08:00:16
2020-05-12 12:51:34
as SOLOIST with BLUEWATER CHAMBER ORCHESTRA in Beethoven's "Ah, Perfido"